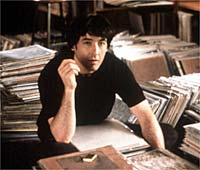 (*gasp* - did he just bite his thumb?). Yes, ladies and gentlemen, I bite my thumb in the general direction of Mr. Bryan Kendall. That can only mean one thing - a challenge. Bryan, marginally to his credit, has provided you fine folks with his Top 5 songs on a given day. While this is admirable, I don't think my cohort will disagree that the true spirit of a Top 5, in the parlience of
High Fidelity
, revolves around a well-defined duel. The Top 5 must have a topic. I, therefore, propose to keep Mr. Kendall on his proverbial pedals by periodically peppering him with Top 5 topics for his response at his leisure. I'll be happy to subsequently submit my reply and encourage all of our following friends to do the same. Just leave a
comment
with your Top 5 songs.
So, what will the topic be for January? In
High Fidelity
, many of the Top 5s seem to revolve around some emotion. While I think that's appropriate, as songs certainly connect with our emotions, we'll take it a little easy this month. January is the month of football, beginning preparations for spring marathons, and we've recently seen the release of Rocky. So, how about:
Top 5 Running/Working Out/Achiever Songs
That's the challenge Bryan (and our viewing audience). The clock is ticking.
~AG