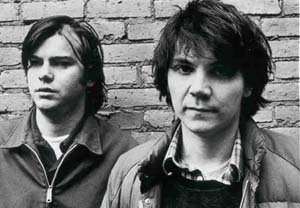 Now that I've bested Gerdon's challenge, I've decided to delve into the past to highlight kick ass bands that may have been forgotten. The initial entry is Uncle Tupelo, widely credited as the purveyors of the music genre loosely called alt-country.
I discovered UT very late in the game. As many my age do, interests in Son Volt and Wilco pushed them to investigate this Uncle Tupelo, a band they'd heard about but didn't really know about. I quickly discovered that UT was equivalent to that uncle who let you have a beer while playing cards when you were 13: they kicked ass! UT took elements of punk and garage rock and blended i
t with country -- fiddles, pedal steel guitars, mandolins and songs of hard luck, love, and alcohol blended perfectly with raging electric guitars, resulting in AWESOME!
The following tracks are from UT's latter shows: April 29, 1994 from Columbia, Missouri. Originally cut on UT's second studio album
,

Still Feel Gone
, these are some of Tweedy's and Farrar's finest songs. Farrar's
Postcard
, in particular, illustrates both the country and hard rocking side of Uncle Tupelo, especially on the studio cut. Tweedy's
Gun
is no quiet ballad as he dwells on lost love. While you're sampling these gems, also check out the following YouTube video from way back in the day. Look at how young Tweedy looks here.